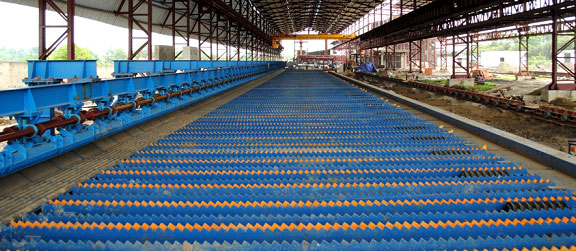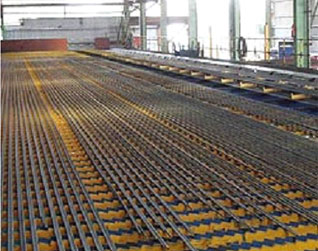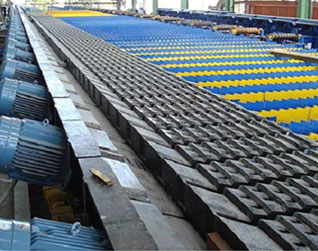 AKSHI ENGINEERS engaged in offering supreme quality Automatic Rake type Cooling Bed that is primarily used for purpose of naturally uniform air-cooling of TMT bars and transporting the same in a phased manner.
This transporting is done from the entry of the cooling bed to discharge side. In this, the front end of the bars is also leveled at the discharge side and a fixed number of bars are sent for final length cutting by cold shear and bundling.
The mechanism of our cooling bed assures that the bars are uniformly positioned over the toothed racks. Our cooling bed is designed considering the finishing mill stand of the mill and cooling time required for the various sizes of the bar.
COMPLETE SYSTEM COMPRISES
Fixed Grid
Straightening racks comprising cast iron toothed blocks that assist in receiving bars and straightening it at temperature of around 600o C
Moving rakes
Movable rack mechanism to move in 'X' and 'Y' axis which will be profile cut to suit smallest size as well as maximum bar size. Drive for movable rack mechanism comprising motors driving two parallel sets of drive shafts.
Fixed rakes
Fixed rack mechanism that receives bars from movable rack mechanism are being transferred toward delivery side of cooling beds
Aligning roller
Bar aligning rollers fitted at end of racks and driven by motors for aligning bars front end before delivery to run-out roller table
We have plenty of location where our Automatic Cooling Beds are running successfully.