QUALITY ASSURANCE
Quality is considered as the most important factor of our company for which we have established highly advanced quality control department, where our entire products go through rigorous checks by our experts. They make effective utilization of machinery we have installed here and ensure to deliver error free products in the market
Our Aim
Our company has a sole aim to render maximum client satisfaction thru highly experienced and qualified team of professionals, who hold expertise in efficiently comprehending and accomplishing the specific requirements of clients. Our team consists of highly practiced engineers, production personnel, technicians, designers, quality controllers, warehousing and packaging personnel and many others.
Customer Satisfaction
Our top priority is to meet client's preferences by supplying qualitative products at affordable price. Further, we deliver our products at the desired time frame. Prior to the final delivery of the products, we pack the products and label the products properly. This helps us in delivering the products without any damage. All these gives complete satisfaction to our customers.
Policies
Incomming & Suppliers
Plates
Structural steel
Forging
Casting
BOP
Machining
Inprocess in Shop
Fabrication
Machining
Sub-assembly
Assembly
Final Inspection
Fabrication
Machining
Assembly
Testing
Final Packing & Despatch Clearance
Quality Management System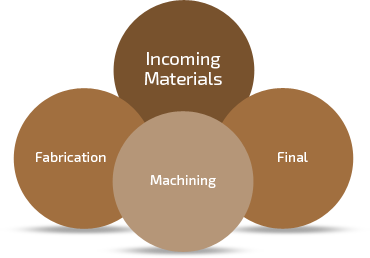 Quality Product
NCR Handling
In case of NCR (defect/deviation beyond the acceptable limit) we follow the following.
Record the defect/ deviation in form of NCR .
We forward the NCR to our customer .
As per customer recomndation we take the corrective action .
Based upon analysis the defect we identify the preventive action .
To ensure the effectiveness of preventive action. We check the future jobs.